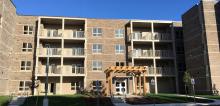 On behalf of the Board of Directors of Homes Unlimited and Odell-Jalna, we hope that you are safe and well during this second wave of COVID19.  Along with Arnsby Property Management and the local public health agencies, we continue to monitor and act on developments in regard to COVID19.  To this end and due to the dedication of the Board, we continue to meet virtually monthly to take care of business and to plan for the future. 
We are pleased to report that construction is completed on the new 54-unit building at 770 Whetter Avenue, near Wellington Road and Baseline Road East (just north of Victoria Hospital).  The building is fully occupied. 
On the horizon is a new development planned for 99 Pond Mills Road.  Due to COVID19-related restrictions, construction has been delayed but we are hoping the development of this 110 unit building will begin soon.
As well, our building at 693 Talbot Street is scheduled to undergo a renovation.  Construction on this project will begin in 2021.
My thanks are extended to:
our Board members for their diligence and hard work to ensure the provision of affordable housing despite COVID19 challenges,
Arnsby Property Management for their efforts in providing measures to keep tenants and staff safe,
our on-site superintendents for the extra work required of them during the pandemic, and 
our tenants for patience and understanding during this challenging time. 
By each of us doing our part, we can stop the spread of the virus.
Carmen Sprovieri, President, Board of Directors
February 5, 2021